Salad Days Fall Harvest Days
Backyard Growers has established award-winning School Garden and Farm to School Programs in the Gloucester Public Schools.
Our model gives students the opportunity to grow their own healthy, fresh produce in school gardens and ignites their curiosity about where their food comes from.
We are committed to inspiring a new generation of healthy eaters and building stronger, more connected, environmentally sustainable communities.
Through our consultation program, individual schools and entire districts are establishing impactful, efficient school garden programs across Massachusetts. Our staff loves working with educators to help spread our programs to new communities.
Want to bring Salad Days and Fall Harvest Days to your school district?
Learn more below and get in touch with our Program Director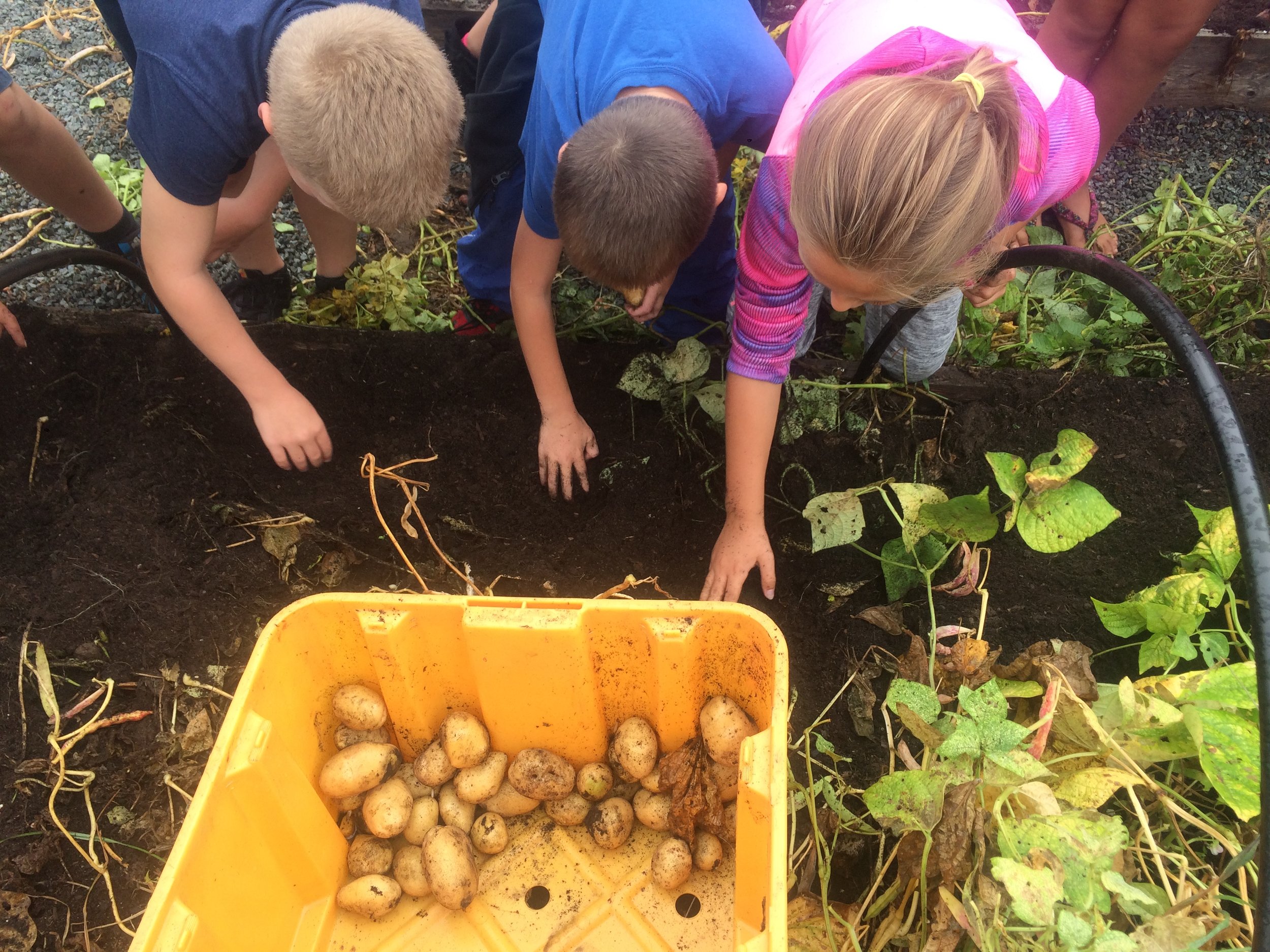 "I learned to love lettuce because of you guys!"
Salad Days
Fall Harvest Days
100% of K-5 Gloucester public school students are engage in Backyard Growers' signature Salad Days and Fall Harvest Days programs. These fun, educational, hands-on programs teach our students how fun and delicious healthy food can be.
In just 1 hour of class time spread across the entire school year, students follow their food's journey from seed to fork as they plant, harvest, and taste their own vegetables. Every the spring, students plant a lettuce crop that they can harvest and eat together before they leave for the summer! On the same day as their harvest, students plant plant a low-maintenance vegetable crop that will be ready to harvest when they come back to school in the fall!
Salad Days and Fall Harvest Days in Preschool!
Gloucester kids get their first taste of gardening early while they're still in preschool! We offer a program for preschool students in which they plant salad greens as soon as spring comes in April for a salad picnic in June, and specific crops to coincide with their Stone Soup program in the fall so that the entire preschool can come together to make their own stone soup from vegetables they grew in their own schoolyard!
Middle School with Backyard Growers:
Grade Level Grain Growing
As Gloucester students progress through their school careers, they get to grow a different crop each year. When they get to middle school, they graduate to grain crops, and learn how to transform these seeds into popcorn and bread! As our crops shift, so does Backyard Growers' program model, with students not only participating in planting, harvesting, and tasting events, but also studying their crop as part of their yearlong curriculum.
6th Grade Popcorn Project
In 2015 Backyard Growers collaborated with the 6th grade science department at O'Maley Innovation Middle School to build its first school garden. Students come from our 5 local elementary schools already having grown 7 different crops. As a united 6th grade, students harvest popcorn, then spend their year in science class studying their crop alongside their usual curriculum. In addition to a hands-on demonstration of changes in mass, volume, and density, students enjoy some delicious popcorn on Popcorn Day, and learn about the most widely grown crop in the United States and its impact on our national food system before planting a new crop for the incoming 6th grade class to harvest in the fall.
7th Grade: Ancient GRains and Ancient Civilizations
In 2018, Backyard Growers broke ground on another garden at O'Maley Innovation Middle School, this time right in front of the building! This new garden allows 7th graders to continue their exploration of food systems by making their own bread from the very start when they harvest, thresh, winnow, and mill wheat, and eventually make bread right in their classrooms! As they eagerly work up to their bread baking day, students study the impact of grain cultivation on the development of ancient civilizations as agriculture dictated the locations of settlements, molded the development of civilizations, and both enabled and necessitated technological and cultural advancements.
Want to transform the way your middle schoolers think about food?
Get in touch with our Associate Director of School Programs.